Corporate site
A corporate website is a company's working tool that solves all communication issues, presents the company online, and ensures conversion and sales.
THE WEBSITE IS THE FACE OF THE COMPANY
UNDERSTANDABLE STRUCTURE
BRAND DESIGN
CONVENIENT FOR CUSTOMERS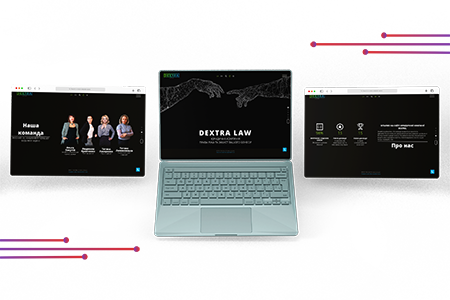 Corporate site
A corporate website is a working tool of a company, which, with successful and thoughtful execution, solves all communication issues, presents the company in the network, ensures conversion and sales. It demonstrates your business's ambitious plans, achievements and achievements to existing and potential customers, thus positively influencing the image and creating an excellent reputation. You can order a modern, effective turnkey corporate website in Kyiv and the region, as well as from any region of Ukraine, from the Romanow Web Studio team.
Functionality and return from the resource directly depends on its implementation, thoughtfulness of the structure, quality of content, promotion in the network. It is not enough, for example, to simply create a corporate site on Wordpress in Borshchagivka in order to be successful in your segment, within a certain location. After all, a successful project is the cohesive work of many specialists working on a solution to a single problem.
What do we offer?
Individual development of your resource, taking into account the specifics of your business and company, research of competitors.
Creative solutions that will distinguish your project from a million others.
The only style in a corporate manner, which will have a positive effect on the image.
Unfailing functionality of the site, regardless of what you choose – a multi-page Wordpress site or a simpler base.
Successful marketing, successful promotion of the resource in the network to increase conversion.
Romanow Web Studio offers you to order the creation of a corporate website in Vyshnevo, Borshchagivka or another district of Kyiv, region. Our projects really pay for themselves and bring profit.
Do you need a high-quality corporate website? Contact ↓
FAQ
What is a corporate site?
How much does a corporate website cost?
The cost of developing a corporate website depends on the complexity of the design, the number of categories, pages, products or services and many other factors. To calculate the cost, fill out the form.
How fast can you develop a corporate website?
As with the price, the time depends on many factors, the complexity and scope of work. We try to do everything as quickly and qualitatively as possible, so you will receive your site in the shortest possible time. For a detailed consultation, leave a request